Mazda MX 30 Preview, Coming soon to Malaysia/ YS Khong Driving
Bermaz Motors gave the media a sneak preview of the Mazda MX-30, a fully electric Cross-Over SUV, based on the Mazda 3 platform.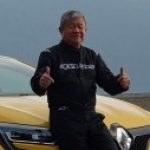 YS Khong is 5-Time Malaysian Rally Champion and Winner of many Saloons races at Malaysian race circuits. He takes life and driving seriously and believes that driving skills can be acquired. YS also believes we should enjoy every driving journey, just as we should enjoy our life journey, and knowing how to handle a vehicle well will make driving more fulfilling.